4rd Canadian Cannabis Conference
Demystifying cannabinoids: the view of industry experts
MAY 18th, 2022 – HOTEL PLAZA QUEBEC, QUEBEC CITY
This year, the conference once again brought together several players in the cannabis industry from Canada, from different fields such as science, R&D, politics and the medical field. The Canadian Cannabis Conference is one of the most important cannabis conferences in Quebec and Canada since its legalization in 2018. Our goal is to create a learning moment conducive to exchanging knowledge and ideas on the most recent developments with key industry players.
Conference speakers included, among others, leading scientists who shared their latest research on cannabinoids in the medical field, and legal professionals who will provide insight into key regulatory and legal aspects of the industry.
Canadian Cannabis Conference 2023
18/05/2023
8:00 – Reception : light breakfast and booth networking
8:45 – Cannabis industry trends and outlook
Thanks to the relaxation of laws in several countries, including Canada and Quebec, the cannabis industry is growing rapidly, offering considerable investment and entrepreneurial opportunities.
However, as with any developing industry, it faces many challenges and issues.
9:35 – Cannabis tissue culture, can improve your production in more ways than you think
In this presentation, we will look at how cannabis tissue culture (TC) can improve yields by talking about specific examples, that the industry is facing. Tissue culture (or in vitro) of cannabis can be perceived as a technique with very specialized applications, but it can improve yields in many ways. Bud microdissection can be used to clean lines contaminated with bacterial, fungal or even viral pathogens. Micropropagation can optimize the multiplication of mother plants (reduction of production times and costs). Encapsulation or cryopreservation are medium and long-term storage solutions for your most valuable genetics. It is also an essential technique for genetic engineering. Finally, it makes it possible to "rejuvenate" the old mother plants and restore their vitality to its maximum! Come see this presentation and ask your burning questions on this topic!
10:05 – Panel on the topic of funding for cannabis companies
11:15 – The potential of cannabinoids in the treatment of obesity-related disorders
Since 2017, Dr. Silvestri has been an Assistant Professor in the Faculty of Medicine at Université Laval. His laboratory is located at the Quebec Heart and Lung Institute and focuses on the molecular and cellular actions of the endocannabinoid system on metabolism.
1:20 – Evaluation of cannabinoids as a treatment for multiple sclerosis symptoms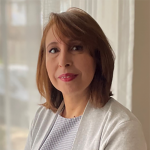 Amel Zertal, M.Sc
CLINICAL RESEARCH PROJECT MANAGER – CRCHUM (UNIVERSITY OF MONTREAL HOSPITAL RESEARCH CENTRE)
The ongoing clinical trial evaluating cannabinoids as a treatment for multiple sclerosis symptoms will be presented as well as the evaluation of the mechanisms explaining the effects of cannabinoids.
2:05 – Contract manufacturing services (CMO) for cannabis products
The cannabis transformation industry represents 60% of the products found on the Canadian market. The presentation will include important topics regarding this subject. The definition of a good CMO will be outlined. PurCann Pharma is a leader in that industry and its services offered will be presented.
3:00 – Producer and Sommelier Perspective: Cannabis Quality at the Heart of Market Development
Discussion on the importance of quality when it comes to cannabis products and how quality impacts brands, sales and market at Origine Nature, Trichome and Lot420.
3:50 – Medical Cannabis Research in Canada: where are we at in 2023?
Research in cannabis has been going on for several decades, however there are still significant gaps in understanding its benefits and harms. This presentation will show the current landscape of medical cannabis research in Canada, and present the various regulatory paths to conduct cannabis research in Canada.
To stay informed of all our news, follow our social network accounts!